AM-BLE
—
BFA Graphic Design Thesis
—
Task
Editorial Design / Image-making / Illustration / Art Direction / Editing
Mobile devices have enabled us to maximize our time, allowing us to work regardless of time and location. However, it somehow took away our capacity to look around, giving us an inability to pay attention to our surroundings. We are engrossed with our mobile devices.

Smartphone has transformed the way we use and relate to technology. We are now connected to each other more than ever before. We can interact with each other anywhere, anytime. However, what we often see is people being on their mobile phones even while we are spending time with friends and family; even when we are just walking down the streets. While being tethered to our mobile devices we find ourselves disconnected from our immediate surroundings.


I have conducted 12 in-person interviews and 2 surveys (total 65 participants) along with an expert interview with a SJSU psychology professor, Dr. Palmer, to learn people's behaviors with smartphones.

Kyung Lah and Lateef Mungin, "Train Riders Too Consumed with Phones to See Gun before Shooting," CNN, https://www.cnn.com/2013/10/10/tech/san-francisco-shooter-phone/index.html. (accessed February 17, 2019)

While researching I found an article recounting the event of shooting in SF in 2013. An armed man on a Muni train shot and killed a 20-year-old student. Before he fired, he waved his gun around. Pointed at the other side of the train. There were plenty of time and chances to spot his gun, however, nobody noticed because other passengers were engrossed in their digital devices.

This is a poignant portrayal of the effects of the great invention that touches every aspect of our lives. We are very aware that smartphones will remain as big part of our lives even though it has a negative impact on our society. However how much we let it affect and dominate our lives is completely up to us. Eventually, it becomes our choice to see and experience the world through someone else's eyes or through our own eyes.
My thesis intends to question how constant connectivity and relying on technology for information may obviate the opportunity to foster a sense of connection to surroundings and social interactions by developing serial zines in an attempt to connect people to the physical places and interactions.
Let me introduce
AM-BLE
. The zine that will take your mind on a stroll.
AM-BLE is a bi-weekly zine that documents ideas and perspectives of people, usually experts in different subjects, on the things we encounter but fail to observe in our surroundings throughout our walks. With a broad spectrum of photography, graphics, illustrations, and text, each issue presents a different point of view.
People may ask how this zine connects people to places and to each other. First, it connects me to experts in different subjects by strolling together. By documenting and learning, I notice and recognize more things around me; I feel the connection to the places. And then, by sharing, we connect with you, and help you connect with your surroundings.
The first issue was published on May 14, 2019*
*This project is hypothetical.
Let's take a closer look︎
Cover art: Francisco Z.

(AM-BLE's illustrator)
click the name︎to view his other works
Francisco, AM-BLE's illustrator, creates the cover art for each issue to create consistent and cohesive look and feel. The color for each issue varies depending on the location or the topic.
Our goal is to reach as many people as possible.
So, the minimum number of colors (no more than 3) are used for each issue to produce and distribute at lower price.
Illustration: Arom L.

(Me!)
Issue 01: A walk with Paul Shaw, An American typographer and graphic designer. We documented at least 5 interesting signs we encountered and observed during our stroll exploring part of New York City. This first issue was inspired by the book On Looking: Eleven Walks with Expert Eyes by Alexandra Horowitz.
Issue 02: We discuss architecture in San Francisco with Kenneth Frampton, a British architectural historian. This issue contains Frampton's observation and comments on 4 well-known and 2 rare and interesting architecture in the city.
Each issue contains each expert's handwriting to create more intimate and personal feelings and connection with readers as if the readers are looking at their personal notes.

The size of the zine is 3" x 6" (iPhone X: 2.79" x 5.65"). The zine is as small as a smartphone so it can be easily carried around and read it anywhere without any inconvenience. Just like your smartphone, but better ︎.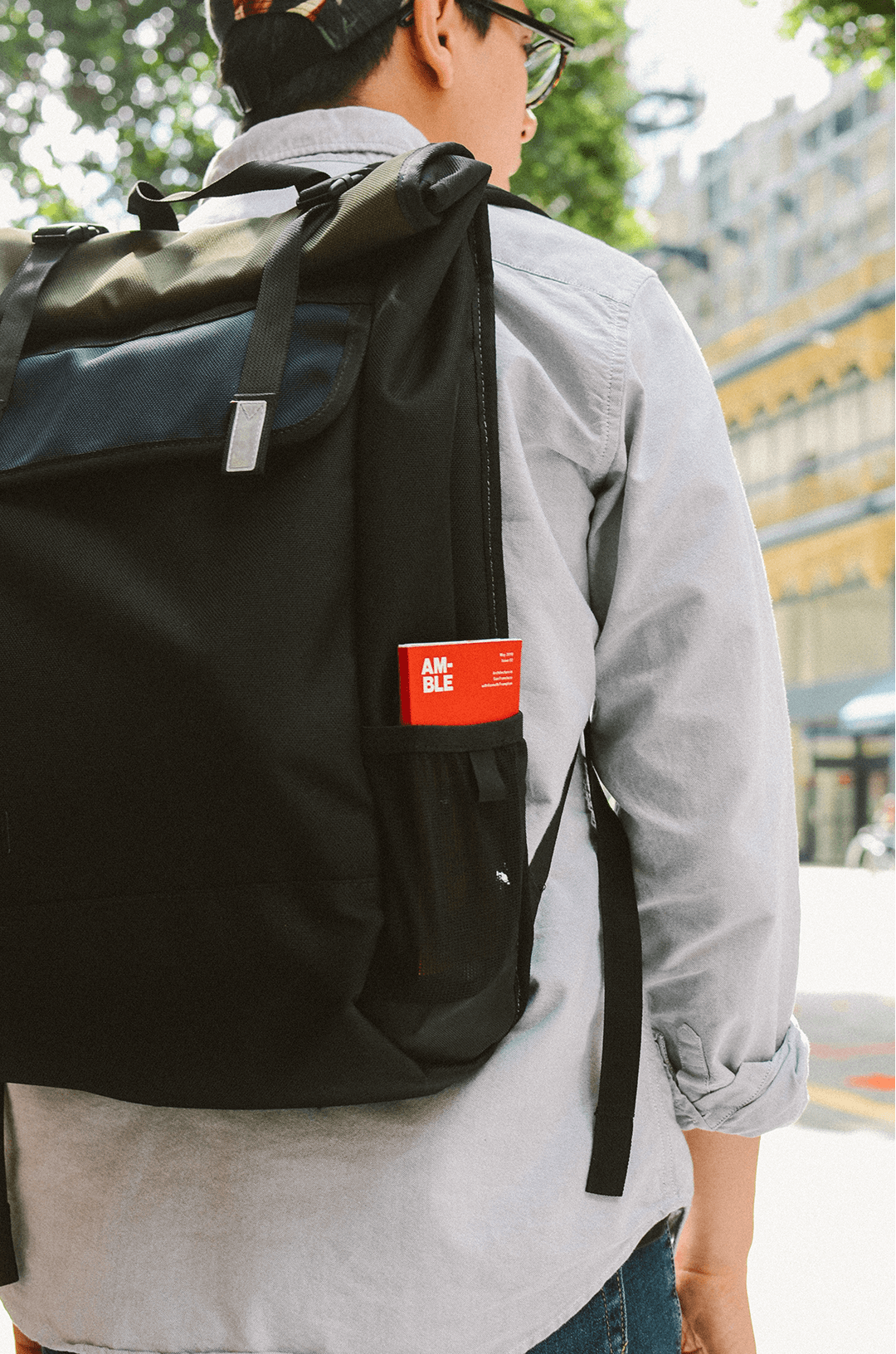 The overall theme of the zine is discovery. There are flaps inside the zine that hide and reveal part of images or illustrations.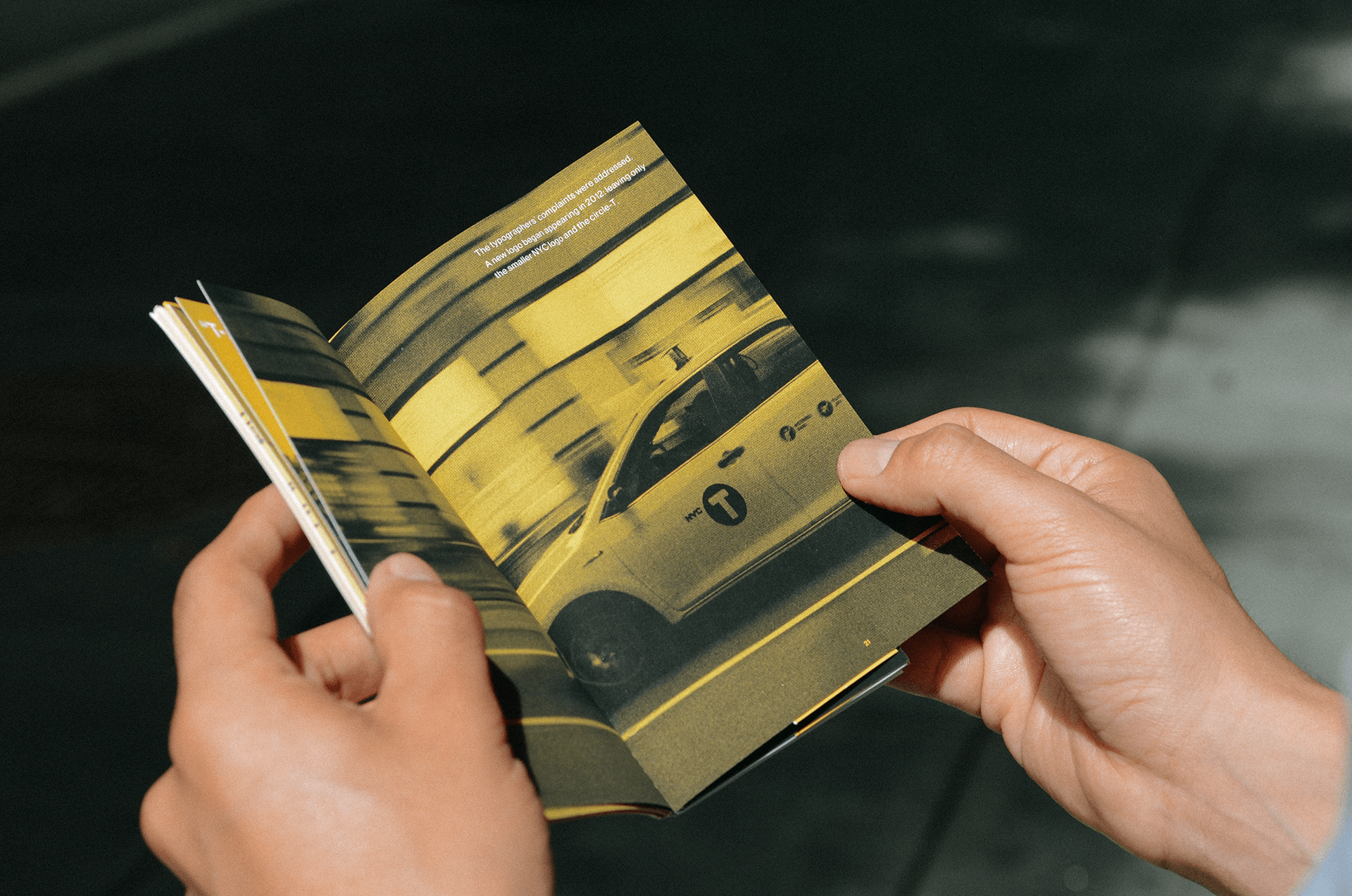 The front side of flap
includes the general information
about the place, its location and how to get there. The reason why we include the infromation is
to keep readers stay on the book instead of searching on their mobile devices as well as to encourage them to actually visit if possible.
AM-BLE
is available at limited locations. The best way to get the zine is to subscribe.
Don't worry. We will never spam you.
We offer annual and monthly subscriptions. From the subscription page, readers can choose the subscription cycle. If readers desires, they can purchase a single issue while it is in stock.
The website is very simple; it contains 2 pages: Home page and Subscription page. The color scheme and the illustration on the home page of the website changes every issue.
Coming up next︎:
Issue 03: Seismology in Los Angeles with Lucy Jones, a seismologist and public voice for earthquake science and earthquake safety in California, USA.